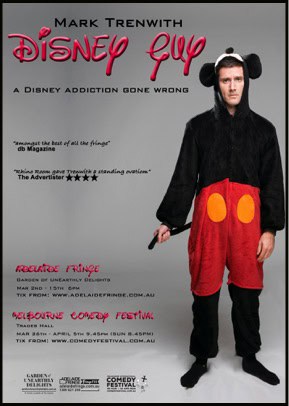 Mark had to give up Disney.
In 1992 it was his first year of high school and to be popular he tried to hide his childish obsession with Disney characters. It went terribly. What followed was this hilarious John Hughes/Wonder Years style coming of age tale full of sublime teenage awkwardness, humiliating stories, tragic '80s nostalgia and the struggles of a teenage boy having to turn his back on his Mickey Mouse jarmies forever.
"I'm pretty sure I was the only kid in the footy team that had Donald Duck undies," explains Trenwith. "To be honest I didn't even like football, I just did it to try and fit in and I was AWFUL. I was like Steve Urkle in footy shorts. Even Mr Bean would have looked at me and gone "wow that kids a numpty!"
Mark uses a projector to tell this story of hardcore Disney nerdism gone wrong so expect plenty of shaming photo evidence and tragic 80s nostalgia.
Trenwith has been regularly selling out festival shows at the Adelaide Fringe, Melbourne Comedy Festival and Edinburgh Fringe since 2001 and was nominated for Best Show at Perth Fringe World for his popular children's creation Mr Snot bottom in 2014. Mark was also named 'Comedian of The Year' at the Adelaide Comedy Awards in 2010.
★★★★ Sunday Mail
★★★★ Funny Tonne
★★★★★ On The House